How To Wear Jeans Over 50: A Guide For Women
I've heard it said (I've even said it myself), "Age is just a number." Generally speaking, I really believe this.
I mean, if you feel great, and you're 50: give thanks, seize the day, relish your youth, and enjoy skating into the next half-century. But don't do that in a crop top and daisy dukes, you know what I'm saying? I'm not sure when dressing fashionably became the equivalent of wearing scant or revealing clothing, but it does beg the question: What's the deal? In my opinion, it's high time we middle-agers lead the way, by first stopping to consider what we put on in the morning.
(In fact, I would argue that all ages need to consider what to wear and what not to wear, but we'll save that topic for another post.) The sky is not the limit for your closet and please don't think for a second that your world of fashion is ageless. You still may feel young, but your clothing choices and your closet deserve careful editing, particularly by the time you hit the big 5-0. Look around.
The data is everywhere, exposing that many middle agers would do well to reconsider their wardrobe. For this reason, we've put together a quick guide of five cautionary notes about successfully wearing jeans. We're hoping it might stem the tide of more fashion faux pas for older women donning denim, in particular.
In our casual culture of today, jeans are a wardrobe staple. Most of us have a love/hate relationship with jeans. We love the convenience of pulling them on. We love that they go with nearly everything. I myself own about a dozen pairs of jeans but reach for about 4 of them. It's a challenge to find jeans that fit well. The struggle is real! Nevertheless, it's possible to find them and rely on them as a trusty wardrobe piece.
As a side note, let's pause to consider the world of denim. Isn't it mind-boggling to think about the market for denim which has developed over the past couple of decades, driving prices of a single pair to soar over $100 and even $200? If you had told me this would be the case when I was kickin' around college in my boyfriend's Levis in the late '80s, I wouldn't have believed such a ridiculous notion. But, here we are, and jeans are big business. They weren't nearly the style category in the late '80s/early '90s as they are now. Guess and Gloria Vanderbilt started a fashion trend that just keeps mushrooming.
Anyhoo, I digress. I venture to imagine that by now you own a stack of jeans in varying styles and sizes. As do I. Well, the following five caveats may help you edit that stack. Our first cautionary note has to do with the fit of the jeans you own. Read on.
Note 1: Be wise about the rise.
Hear me say: regardless of your size and shape, you need not have in your denim stash a pair of low-rise jeans when you're our age. But I'm a size 2, you say. I believe you! Sister, believe me, even the skinny women among us have a problem with flashing the crack when crouching down at the dog park or searching for the bundt pan in the corner cabinet. Here is the unfortunate secret: you can't feel it when you're flashing! You think, well of course I'll know if my pants are showing my (e-hem) flesh. I'll be able to feel the breeze. I'm telling you, you won't!
If you don't believe me, run a test. Stoop down to clean kitchen crumbs the next time you wear your low or even mid-rise jeans. While stooping, reach around and assess the level of the rear waistband. I think you may be surprised by what you discover. Alternately, you can call your husband in to give you the low down. In my own experience, my husband alerted me to reality one fine day when I was crouching down to find an earring in our sisal rug. I had no clue that I was showing skin….and more! And that explains the numerous times I've caught sight of revealed rear quarters of both women and men, friends and strangers, in a variety of settings from the football stadium to the church nursery. Consider yourself warned!
Note 2: Choose your jean style with a top to bottom approach.
What I mean is: if you're going for tight skinny jeans, cover your tail. Wear a slightly loose-fitting shirt or sweater long enough to offer coverage.
The balance of tight on the bottom, bigger on top works. It looks good and it prevents calling attention to ourselves. We can look pulled together without looking like we want to be noticed.
Keep the skin tight skinny jeans under wraps, so to speak.
Note 3: Leave the rips for the teens.
By the time you turn 50, choosing to wear a hint of trend is preferable to following a trend fully.
Take, for example, the trend of ripped jeans. When the rips stay in the zone between the knee and mid-thigh, I agree that it can be a fun look. I can see the appeal for the younger set.
However, we 50ish women are wise to let our younger counterparts own this style. I'm not saying we need to go for frumpy, but I do think our denim fibers should largely be intact.
Note 4: Wedgie Jeans — don't go there.
Maybe I state the obvious when it comes to this cautionary note, but let's be clear: no middle-aged woman needs to be reaching for wedgie jeans when contemplating a denim style for purchase.
I'm not going to debate this trend, which Levi's officially brought on the scene in 2016, but I will say that we may want to check our motives if our goal is to get onlookers to hone in on our rear, much less that part of our rear.
It's one thing at fifty to want to look pulled together with clothing that flatters, but it's quite another to seek to be a siren, as my mother used to put it.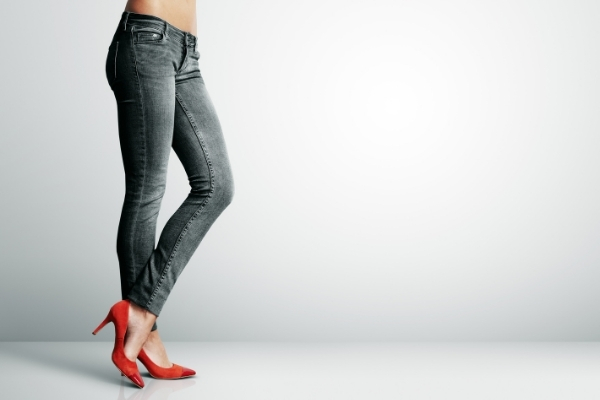 Note 5: Buy jeans for your figure and get help finding the right pair.
No matter your size, you can find jeans that not only fit, but also look fantastic. Find a store you love, identify a salesperson whose style you admire, and ask for help getting fitted for jeans.
I recommend Nordstrom for free fashion and fit advice. I haven't met an employee yet who hasn't offered informed help in a non-pushy, pleasant manner.
It's like having your own stylist!
So, there you have it: five helpful hints for the woman of 50 who wants to look and feel her best in jeans, which may be her uniform, as they are mine.